Tuesday, Aug 6, 2013 12:06 pm
Photo: Mississippi State Sends 5-Star CB Marlon Humphrey Another Bizarre Letter
Annie Dunbar - Kentucky Campus Rep
We've seen coaches go to some pretty extensive lengths to convince players to come play for their squad. For example, last week Kentucky head football coach Mark Stoops sent Braxton Berrios 104 handwritten letters. Or there is the always comical NC State recruiting letter that was sent to C.J. Reavis trying to sway him. But after today, those tactics seem a little less "out there."

Take a look at what Mississippi State sent 5-star cornerback Marlon Humphrey: 
According to Lost Lettermen, "Fruit Punch" is Humphrey's nickname. We've also seen the can of swag before in a weird letter that MSU sent Humphrey back in April:
Not sure how this recruiting tactic will turn out for the Bulldogs but it's definitely unique. What do you think? Would you pick to play for a school who sends you stick figure drawings?
[Lost Lettermen via Saturday Down South] 
Read More At Bleacher Report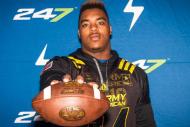 Alec Nathan - Thursday, June 2, 2016 8:39 pm