Twitter And Matt Barkley Respond To Kiffin's Harsh Criticism
The Twitterverse is exploding with tweets about USC head coach Lane Kiffin trash talking starting quarterback Matt Barkley after the Trojans' loss to Stanford last Saturday. Harshly criticizing the senior QB's decision-making, he declared that this game was one of Barkley's worst. USC fans aren't taking too kindly to the coach's blame and have tweeted things like the following:
Damn lane kiffin killed Matt barkley smh

— Might be Rocket… (@ROCKETTHEEMAN) September 18, 2012
Lane Kiffin destroyed Matt Barkley this morning. Trashing players/opponents… THAT's the Lane we all know and love. #USC

— Black Canseco (@BlackCanseco) September 18, 2012
Lane Kiffin calling out Matt Barkley for that loss is messed up

— Sam McLamb (@s_mclamb) September 18, 2012
And Barkley isn't the only one Coach Kiffin had to blame for the end of what could have been USC's undefeated season – four sacks resulted from the O-line's lack of ability to protect the quarterback.  Apparently Barkley cracked under the pressure, throwing two consecutive interceptions. With Barkley shaken up, the logical approach was to turn to the run game, but USC finished with a measly 26 rushing yards because the O-line couldn't open holes against the Cardinal defense.
There is no doubt that Kiffin's comments were harsh, if not a tad uncalled for. Fans are correct in asserting that one player cannot be blamed for the entire loss, but it seems that fans are taking his words out of context. In his Sunday press conference, Kiffin later went on to say that the mistakes were out of character for the star QB and that he does not expect Barkley to make those decisions ever again. Even Barkley can't argue with the his coach. In this tweet, Matt responds to the touchy situation in a very mature way:
Matt Barkley on Lane Kiffin's criticism: "He's got to be real. He defends when he has to and keeps it real when he has to."

— InsideUSC (@InsideUSC) September 18, 2012
While USC's BCS dreams are fading and though he'll never get the chance to beat Stanford again, Barkley knows there is a lot of football to play; if he can get over Kiffin's criticism, USC fans can too.
Read More At Bleacher Report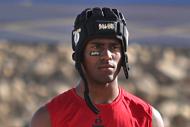 Tyler Donohue - Tuesday, November 19, 2013 10:18 pm