Writers' Roundtable: UConn's Loss To Rutgers Was An Embarrassment
The Huskies
fell 19-3
in a game against rival Rutgers last weekend. But what did students think of the game? Well, they were embarrassed for many different reason. Here's what UConn's CS writers thought of the game:
Patrick Wright: The worst part was watching Chandler Whitmer throw four interceptions. There's only so much the defense can do to keep us in the game. Those interceptions weren't the single reason we lost, but it put us in a deep hole.
Tim Fontenault: The most embarrassing thing about UConn's loss to Rutgers was the decision by Paul Pasqualoni to allow running back Lyle McCombs to not only dress but to play after the first quarter. McCombs was arrested early Friday morning and was in court Friday afternoon but made the trip with the team to New Jersey. What sort of example is Pasqualoni setting? ESPNU could not go five minutes without bringing it up. It is an embarrassment for the school. The team is bad enough. We do not need these added distractions.
Danny Maher: I agree 100 percent with Tim. It was beyond embarrassing that McCombs was allowed to make the trip — let alone play — after being arrested the day before. Former coach Randy Edsall was too strict, but Pasqualoni made the wrong decision.
Matthew Stypulkoski: Personally, I think the worst part of the game was McCombs being allowed to play just 36 hours after being arrested, but there are plenty of options: scoring just three points, the horrible clock management at the end of the first half, and the miserable play calling on first down throughout the game. It's an indictment of the coaching staff. As much as I'd love to root for my school, it's becoming increasingly difficult after every game.
Read More At Bleacher Report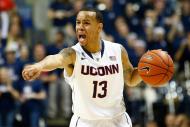 Joe Tansey - Tuesday, December 3, 2013 2:58 am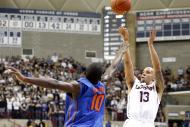 Kevin McRae - Monday, December 2, 2013 11:05 pm