What You Missed Last Night: Season Openers
Last night signified what's sure to be an exciting start to college football. In case you missed it, here's a quick synopsis of last night's games.
South Carolina was the only ranked team playing last night, but Vanderbilt didn't seem to care. South Carolina took a 10-0 lead, but Vandy came back with 10 unanswered points of its own to tie it before the half. South Carolina rallied to take the lead early in the 4th quarter, but Vanderbilt couldn't respond. Marcus Lattimore scored 2 TDs and had over 100 yards in his debut after an ACL tear. QB Connor Shaw's throwing shoulder got a little banged up, but he played most of the game and should be good for next week.
Massachusetts got crushed in its FBS debut. Limiting UMass to a measly 59 yards in total offense and only 3 first downs, the UConn Huskies dominated the Minutemen. Despite the huge win, UConn QB Chandler Whitmer threw two interceptions and zero touchdowns.
Utah also blanked Northern Colorado. The Utes breezed passed the Bears in their first shutout performance since 2007. The win might seem impressive, but Northern Colorado went 0-11 last season. Still, the Utes never allowed the Bears to cross midfield and limited them to only 114 yards in total offense.
Here's a list of scores from last night's FBS games:
South Carolina 17, Vanderbilt 13
UCF 56, Akron 14
Ball St 37, E Michigan 26
Central Michigan 38, SE Missouri St 27
Kent St 41, Towson 21
Utah 41, N Colorado 0
Connecticut 37, Massachusetts 0
UCLA 49, Rice 24
McNeese St 27, Mid Tennessee 21
New Mexico St 49, Sacramento St 19
Utah St 34, Southern Utah 3
E Washington 20, Idaho 3
BYU 30, Washington St 6
Arizona St 63, N Arizona 6
Minnesota 30, UNLV 27
Read More At Bleacher Report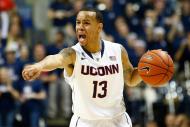 Joe Tansey - Tuesday, December 3, 2013 2:58 am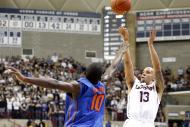 Kevin McRae - Monday, December 2, 2013 11:05 pm