UConn Needs To Lose To Temple On Saturday
How often do you hear the phrase, "This team needs to lose"? Not often.
But UConn needs to lose its Homecoming battle with Temple on Saturday at Rentschler Field.
The Huskies (3-3, 0-1 Big East) have been absolutely dreadful this season. The most disappointing part is that it has nothing to do with the talent of the players.
Paul Pasqualoni has become Public Enemy No. 1 in UConn Country. 
UConn football under Pasqualoni is a stick in the mud. It might appear that a Huskies win is one step forward, but the team that has not won back-to-back games in Pasqualoni's 18 games as head coach.
The program is taking steps backwards.
There is an attitude that it is okay to lose. This is the PeeWee Football attitude that practice makes perfect. Why is this an appropriate attitude for a team whose last game before the Pasqualoni tenure started was the 2011 Tostitos Fiesta Bowl?
The coach refuses to accept responsibility for the troubles of his program. He acts as if he took over a work-in-progress.
That's wrong. Randy Edsall took over a work-in-progress when he signed up to coach a Div. I-AA program preparing to make the jump to Div. I-A.
What did Edsall do? His teams showed improvement every year and by 2004 — the first year UConn was conference-affiliated — it defeated Toledo in a bowl game. He led the squad to two shared Big East championships, three bowl wins, and a BCS bowl appearance before leaving in 2010.
Now UConn looks like a team that is still figuring out what its doing.
Furthermore, the players are no longer held accountable for their actions, on or off the field. The Lyle McCombs incident from last week was only the latest example. 
The coaching staff has no critical awareness about underperforming players. The play calling under George DeLeone is simple: run, run, run. UConn is 42nd in total carries in the nation but dead last in yards per carry with 2.8. There is no willingness to mix up the offense when the current attack is not working. 
Quarterback Chandler Whitmer gets a chance to pass maybe once every drive or two. When he makes a big play, he is immediately pulled from the game so backup quarterback Scottie McCummings can run the Wildcat.
How much confidence and experience is Whitmer supposed to gain through this style of play? When UConn eventually goes behind, he's rushed into decisions because he has not been given the chance to throw the ball on a consistent basis. Enter interceptions. And Pasqualoni acts like the biggest problem is that UConn needs to continue working on the run in practice.
Athletic Director Warde Manuel, a former football player at Michigan, sat on the podium as his new men's basketball head coach said that his team would take the stairs because the escalator is for cowards.
Pasqualoni takes the escalator. 
A loss on Saturday would mean starting 0-2 in the Big East. It would mean people might focus on the poor coaching decisions that are dragging the team down.
A loss just might be a step forward.
Read More At Bleacher Report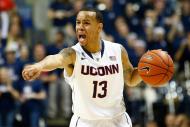 Joe Tansey - Tuesday, December 3, 2013 2:58 am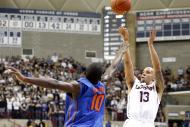 Kevin McRae - Monday, December 2, 2013 11:05 pm