UConn Football Is A Laughingstock: The Paul Pasqualoni Era Must End
Before I begin my rant, which will potentially call my fanhood into question with some, let me first state – I love my school.
In fact, that's the reason why this post is going to be filled with anger, disgust, shame and perhaps a little hostility.
I just can't bear to let this suffering continue.
You see, just two years ago, the UConn football team struggled to a rough start, and the remainder of season seemed bleak.
Or at least it did to the fans.
The players on the other hand, never quit believing. They knew they still had the potential to do something special, and do something special they did. They led our school to its first ever BCS bowl.
That team was led by Randy Edsall, a man who has since been villainized in the state of Connecticut for the way he left the program.
I, for one, was smack dab at the front of the angry mob ready to hunt Edsall down, pitchfork in hand. But the more that I think about it, Edsall is starting to look like a golden boy.
Paul Pasqualoni is that bad.
Don't get me wrong, I understand that teams are bound to struggle. Programs experience peaks and valleys in their performance.
As much as I would hate it, I can live with a struggling season or two.
But I cannot live with an oblivious head coach who pretends the lowest of lows are a step in the right direction. I cannot live with a coach who refuses to admit when things go poorly. I cannot live with a coach who will not take responsibility for anything.
I cannot live with Paul Pasqualoni as the head football coach at the University of Connecticut any longer.
And I'm not the only one. The bandwagon is growing. It's only a matter of time before the entirety of the fan base gives up on him too. Some of the players already have.
I don't know if UConn will win another game this season. I don't know if Pasqualoni will get the boot. All I do know is that as long as he is in charge, I refuse to spend another dime to support the program.
Come football Saturday's, don't look for me in the stands at Rentschler Field. If you need to find me, knock on my door.
You may have to do it rather loudly though. I'll probably still be asleep. This program just isn't worth waking up to watch anymore. Not as long as Paul Pasqualoni is standing on the sidelines.
Thank God it's almost basketball season.
Read More At Bleacher Report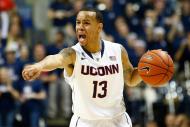 Joe Tansey - Tuesday, December 3, 2013 2:58 am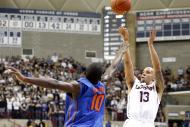 Kevin McRae - Monday, December 2, 2013 11:05 pm