UConn Basketball Teams Take The Floor For First Night
The college basketball season begins now. 
A crowd of 7,000 fans welcomed the UConn men's and women's basketball teams to the Gampel Pavilion floor in celebrations of First Night.
Students started lining up outside Gampel on Fairfield Way early in the morning in hope of getting as close to their favorite basketball players as possible.
The evening kicked off with the UConn volleyball team playing in front of a larger than average crowd as it took on the Cincinnati Barcats. After dropping the first two sets, the Huskies stormed back to force a fifth set. Cincinnati, however, was able to weather the storm and prevail.
Following some on-court special guests ranging from famed halftime performers Acrodunks to Connecticut's own Avery Wilson, a contestant on the third season of NBC's The Voice, the Huskies were finally introduced.
The players were introduced from newest to oldest, alternating between the men's and women's teams. Stefanie Dolson fed off the crowd by coming in "Gagnam Style." Shabazz Napier received the loudest applause from the men's team.
After a performance from Bobby V, Geno Auriemma addressed the crowd. His speech was short and got straight to the point.
"Between the first night and the last night," he said, "we're gonna try to make Connecticut basketball as good if not better than anything in the country."
Newly appointed men's coach Kevin Ollie addressed the crowd. He captivated the crowd with his speech.
"We as a basketball team and y'all as fans, we're connected. When we're down, y'all lift us up," Ollie said.
Ollie expressed a lot of faith in his team, never mentioning anything about the postseason ban, only making a promise to the crowd: "This team is going to be the hardest working team in the nation."
Several players transferred or left for the NBA after the postseason ban was handed down to UConn, but Ollie praised the commitment of returning players.
"With their loyalty, I had to come back," he said. 
In the three-point contest, women's team sophomore Kaleena Mosqueda-Lewis stole the show, holding off Caroline Doty to win with a final score of 20. The men's players struggled and were too heavy on their shot all contest. None of the three competitors, Leon Tolksdorf, Omar Calhoun, or DeAndre Daniels, ever had a shot against one of the top perimeter teams in women's basketball.
This year's slam dunk contest had a lot to live up to after last year's incredible performance featuring Andre Drummond and Boatright, who pulled the upset in his freshman year. He made the finals once again this year, but Calhoun took home the title, beating Boatright, Phil Nolan, and Breanna Stewart.
Both teams begin practice tomorrow. The men begin their season Nov. 9 in Germany against Michigan State while the women debut on Nov. 11 against College of Charleston.
[Photo by Tim Fontenault]
Read More At Bleacher Report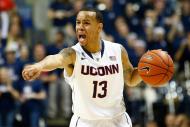 Joe Tansey - Tuesday, December 3, 2013 2:58 am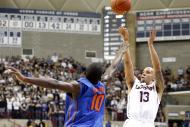 Kevin McRae - Monday, December 2, 2013 11:05 pm