Syracuse/UConn Preview, With The Help Of Social Media
Social Media has been all abuzz over tonight's matchup between Syracuse and UConn. CS Editors on both sides have weighed in on which team has been more disappointing.
There are several key aspects to the game that fans should look out for. The first topic has to be SU's turnover problem this season. It was a big reason the Orange lost to Rutgers last week. 
Here is the tweet of an article from the Daily Orange with Marrone's thoughts of the turnovers; 
— Chris Iseman (@chris_iseman) October 16, 2012 
I agree here – obviously it is tough for a team to put any points on the board if the other team always has the ball in its possession. UConn isn't the greatest team at causing turnovers, but the Huskies put a lot of pressure on the QB, with 21 sacks on the season. It is basically the exact opposite on the other side of the ball – UConn also has turnover issues, but SU isn't any good at forcing them.
Syracuse also has become especially turnover prone in the past few weeks – see the Minnesota game and Rutgers – which leads to this tweet from ESPN; 
@uconncrazy Syracuse has been playing much better on D, though. If UConn D can force turnovers, Huskies have a great shot.

— Andrea Adelson (@espn_bigeast) October 18, 2012
One reason this UConn defense is so good is the sack leader in the Big East, Trevardo Williams. As Chris Ellsbury states, he only needs one more sack to be the all-time leader at UConn for sacks. This guy has great speed of the line and strength to take care of smaller blockers. Coach Pasqualoni has said that his burst off the line reminds him of former Syracuse player, Dwight Freeney. Syracuse fans know how good he is and I am confident that Nassib will know how good Williams is on Friday. 
— UConn Thoughts (@UConnThoughts) October 15, 2012 
UConn's offense has been having some issues, to say the least. While the defense has 21 sacks on the year, the offensive line has given up 20 sacks – six last week against Temple. Syracuse has 14 sacks on the year, so it should be able to exploit this and put some pressure on UConn QB Chandler Whitmer. 
Yes, #UConn coach PP said he thought the OL took a step forward today against Temple. Guess the Huskies are just accepting 6 sacks a game.

— Ken Davis (@Kendavis55) October 13, 2012
Some good news however for the UConn offense is that it gets starting tailback Lyle McCombs back. Redshirt Freshman Max DeLorenzo played well last week with 91 yards on 23 carries, but McCombs brings with him the experience from last season in which he rushed for 1,151 yards. He's only rushed for 484 yards this year, but his presence does change SU's approach.  
— Brent Axe (@BrentAxeMedia) October 17, 2012 
The points will come at a premium tonight, but it will be about Nassib being able to survive the pressure from UConn's front seven to have a few successful drives down field. I think SU's defense will have a break out game, taking advantage of the weak UConn offense. 
Final Score: Syracuse 16, UConn 10
Read More At Bleacher Report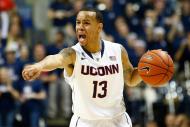 Joe Tansey - Tuesday, December 3, 2013 2:58 am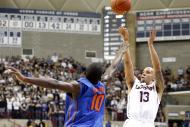 Kevin McRae - Monday, December 2, 2013 11:05 pm