Pasqualoni Leaves Carrier Dome All Smiles, Players' Parents Want Him Out: It's Time For UConn To Act, Now
There used to be a part of me that thought it would be best to fire Paul Pasqualoni after the 2012 season ended. But after witnessing what transpired near the tunnel and outside the Carrier Dome in the aftermath of UConn's 40-10 loss against Syracuse, Warde Manuel needs to start making changes immediately.
The Huskies were completely embarrassed by a team that usually is on the same level as they are. It was not even halftime and it looked like the Huskies had lost the will to live on both sides of the football.
UConn was able to get very little going on offense on account of its atrocious offensive line. Things were bad from the start, with the line getting brushed aside like it did not exist, but things got a lot worse when the best player on the line, Adam Masters, left the game and emerged from the locker room on crutches and in a boot.
The line was flat out awful. Poor Chandler Whitmer. He was the best player on the field for UConn without a shadow of a doubt. Somehow, despite his horrible protection, he went 23-41 for 296 and a touchdown. The line let him down constantly. He was forced to make very quick an unwanted throws and turned the ball over twice; once on a fumble and again on an interception.
Then there's the fact that UConn ran for -6 yards. The Huskies did not gain positive yards rushing. How does that happen? Well, you don't have blocking for starters. That's one aspect of it. But the men on the sidelines are a big part of it.
After Whitmer was sacked six times last week against Temple, Pasqualoni said the line was making progress. After Friday's loss, he simply said that they will use the bye to assess whether any changes need to be made.
Well guess what Paul, changes need to be made.
Let's start with getting rid of a coach that may actually be worse than Pasqualoni, Offensive Coordinator George DeLeone. DeLeone cannot figure out how to get something going on offense. When the team starts to get into a rhythm, he makes a change that results in UConn getting stopped in its tracks.
The biggest problem with DeLeone is that he is also the offensive line coach. Have I mentioned how bad the offensive line is? 
As, for lack of a better word, incompetent DeLeone is and how miserable our offense is to watch as a result, Pasqualoni continues to throw praise at him and his line and says that everything is progressing. This got old weeks ago, but Pasqualoni set me over the top during and after the game.
Apparently, Pasqualoni was okay with packing it in after halftime and was content with letting Syracuse run circles around his team. After the game, he went towards the tunnel and ended up smiling and laughing with several orange-clad fans as he passed.
Sir, your team just got embarrassed by your old team at your old stadium and you laugh it off? Are you kidding me?
Outside the Carrier Dome, I spoke to parents of several players and I got the same indications from them that I did from the players I heard grunting as they walked towards the busses; everyone is fed up with Pasqualoni.
Obviously, the entire fan base and now a good portion of the team have lost faith in Pasqualoni. Manuel needs to act. UConn is going to go 3-9 this season. Honestly, after this, the Huskies will be lucky if any game is within 20 points. Start the search now. Get rid of Pasqualoni. Have him take DeLeone with him. Let Don Brown take over in an interim role as head coach and go on the hunt for a new coach. This is ridiculous.
Read More At Bleacher Report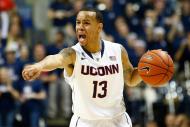 Joe Tansey - Tuesday, December 3, 2013 2:58 am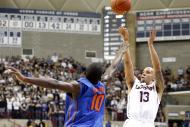 Kevin McRae - Monday, December 2, 2013 11:05 pm