Saturday, Dec 29, 2012 8:38 pm
Have Le'Veon Bell And William Gholston Played Their Final Game For MSU?
Lauren Walson - Michigan State Campus Rep
There has been a lot of talk surrounding the possibility that last night was the final game Le'Veon Bell and William Gholston have played for Michigan State.
According to the Detroit Free Press, Will Gholston, Le'Veon Bell and Dion Simms are all considering the option to declare for the draft.
The Spartans defeated TCU last night, 17-16, in the Buffalo Wild Wings Bowl. 
Read More At Bleacher Report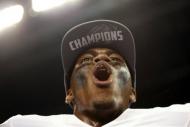 Tyler Conway - Thursday, July 14, 2016 1:13 am