CS Editors Debate Whether Syracuse Or UConn Has Had A More Disappointing Football Season
Most college football debates center around which teams are the best and most deserving. Sometimes, however, the opposite argument needs to be made. Some of our UConn and 'Cuse guys gave us their opinions on which team has had the more disappointing season. I feel for them.  
Ben Glidden, Campus Rep., Syracuse: "What disappoints me most about the Syracuse football team is that it continues to underachieve, even with some really good talent out on the field. We have a balanced group of solid players but they can't all put a game together at the same time. It's like having all the pieces to a puzzle but having no idea how they fit together. I usually end up giving up when that's the case. And then there's special teams… I don't think I can even talk about that without having an aneurism…"
Darius Joshua, Editor, Syracuse: "Like Ben said, the underachieving of this team is really what is the most frustrating. The way this team played against Northwestern, while giving up 42 points, it showed a resilience that really can make a fan proud. When this team can put it all together it can really put up a fight against any opponent and beat most of them. I am not saying they are Top 25- tier talent, but the Orange should be at least contenders to break the rankings. You can even go back to last year when they beat Wake Forest – they played exceptionally well and I think, and most would agree, that they were at their best against West Virginia. If they could channel half of the way they played against those teams they could be a completely different team, one that fans could be proud of."
Danny Connors, Editor, Syracuse: "You would think that with a senior, experienced quarterback in Ryan Nassib that Syracuse would be able to play with consistency and void of dumb mistakes. That's not the case. I don't like to blame coaches but with the talent that SU has, it shouldn't be disappointing a fan base like it has the last two seasons." 
Danny Maher, Editor, UConn:  "Definitely UConn. Nobody thought the Huskies would win the Big East, but the first seven games have been pitiful. They were practically handed the game at home against NC State and Temple but lost by three both times. Yes, the win over Maryland was promising, but the team treated it like its Super Bowl. The next week, the Huskies sleep-walked through a loss against Western Michigan. At least Syracuse has played and competed with some respectable opponents, most notably USC. No wonder the ACC has not extended a bid to UConn."
Matthew Stypulkoski, Editor, UConn: "The Huskies have just been dreadful so far this season. Their defense for the most part has played well and kept them in games – they gave up just 10 points against NC State, 13 against Rutgers (their other six came off of a Chandler Whitmer pick-six) and 17 against Temple, yet could not find a way to win any of those games. The offense has been plain pitiful and the George DeLeone is mostly to blame. His play calling has been entirely illogical. As my father used to tell me growing up, "stupidity is doing the same thing twice and expecting different results." Well, by that standard, I don't know if DeLeone has a working brain cell, because he has done the same thing in all seven games and seen the result remain exactly the same every time. Run, run, third-and-10 pass, punt. That's not the way you put points on the board and as a result, a fairly talented UConn team sits at 3-4 and more than likely will not play in a bowl game."
Tim Fontenault, Campus Rep., UConn: "UConn isn't even disappointing. They're just flat out, bottom line, no ifs, ands or buts about it, an awful football team. I shouldn't say the whole team. Every aspect, minus the 16th-ranked defense in the nation – so the offense, special teams and coaching staff, makes this team awful. The offensive line is in shambles, unable to protect quarterback Chandler Whitmer – who is unable to build confidence as a young quarterback. The talentless line is not helped by offensive line coach and offensive coordinator George DeLeone, who is easily making himself looking the dumbest coach in football. Heads up Syracuse: if it's 3rd and long, blitz. We're going up the gut. You're welcome.
Syracuse fans may know Paul Pasqualoni as the man who led the Orange to four Big East titles, but UConn fans know him as the coach with an 8-11 record at UConn who is quickly destroying everything Randy Edsall built during his time in Storrs. The man's clock management and late-game decision making skills are nonexistent and he fails to show any sense of concern when things go wrong. He in fact said the offensive line was progressing after they allowed Whitmer to get sacked six times. Then there is the lack of discipline in the Lyle McCombs scandal. I won't go into another 500-word rant about that right now. The bottom line is, UConn football is a joke right now. The last thing I want to do when I go to the game on Friday is get heckled relentlessly about how bad they are, but in reality I'll probably be the ring leader of any such discussion."
Read More At Bleacher Report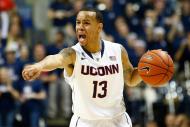 Joe Tansey - Tuesday, December 3, 2013 2:58 am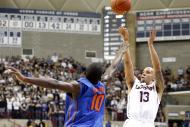 Kevin McRae - Monday, December 2, 2013 11:05 pm