Photo: Man Shaves Iowa Logo Into His Chest Ahead Of Outback Bowl
Nothing screams "I'm a fan" quite like shaving your team's logo into your chest. Check out what one Iowa supporter has decided to do ahead of his Hawkeyes' Outback Bowl matchup with LSU. I'm not sure whether to be impressed or grossed out. Via Brian Holland of WBRZ:
THIS…is real. @outbackbowl festivities getting hairy today – on @WBRZ at 4pm #LSU #Iowa pic.twitter.com/1pq4pUCMaK

— Brian Holland (@BHollandSports) December 30, 2013
Thank goodness the game is in Jacksonville and not someplace cold.
Read More At Bleacher Report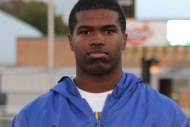 Full Ride - Monday, March 31, 2014 3:43 pm