UConn RB Lyle McCombs Arrested Friday, Expected To Play Against Rutgers
UConn running back Lyle McCombs was arrested at UConn on Friday but is expected to play against Rutgers, SNYUconn and other sources report.
McCombs was in court Friday afternoon and was released on $500 non-surety bond. Another court date is set for Nov. 27.
McCombs joined his teammates in New Jersey for Saturday's game against No. 22 Rutgers.
He was in uniform and head coach Paul Pasqualoni is expected to bench McCombs for a quarter before inserting him into the lineup.
According to the police report, the Huskies' leading rusher was yelling at his girlfriend and also spit on her before pushing her to the ground outside a UConn apartment complex early Friday morning. Police charged him with second degree breach of peace.
Read More At Bleacher Report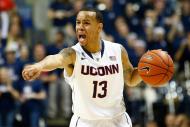 Joe Tansey - Tuesday, December 3, 2013 2:58 am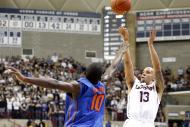 Kevin McRae - Monday, December 2, 2013 11:05 pm