Here Are The NCAA Rule Changes For Football
NCAA.com is reporting that there are some new rules in college football this season. Here's an outline of the changes.
1. The starting lines for kickoffs and touchbacks have been altered.  Kickoffs won't take place at the 30-yard line; instead, they will start at the 35-yard line. Player can't be more than five yards away from the 35-yardline at the kick. For touchbacks, the distance has been moved to the 25-yard line, whereas last season, touchbacks went to the 20-yard line. The NCAA believes these rule changes will lessen the injuries during kickoffs.
2. If a player loses a helmet during a play, it is an injury play.  This does not include fouls from an opponent i.e. facemasking. The player who has lost his helmet cannot participate in both the current and the next play and must leave the game for these plays. This rule change is also to protect helmetless players from actual injury.
3. All players except for "offensive players in the tackle box at the snap who are not in motion" are restricted from blocking below the waste. There are some exceptions to this rule.
4. Players trying to block punts during a shield blocking scheme have limitations on the ways they can jump to block the punt.  The receiving team cannot jump over blockers with the exception of jumping either straight up or between two other players.  This rule was proposed to avoid a jumping play where a player is hit, flipped, and lands on his head or shoulders.

5. The kick returner now has more protection in order to complete a catch.  To complete a catch, returners are allowed one yard before the kicking team can contact the player.  Receiving teams may also call for a fair catch on onsides kicks if the kick is driven straight into the ground and if it doesn't bounce more than once.
Read More At Bleacher Report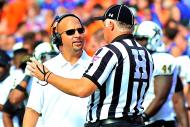 Barrett Sallee - Monday, November 11, 2013 3:32 pm