Check Out The F.A.M.I.L.Y Jerseys Rutgers Is Wearing Against UConn
Rutgers brought a little something special to its matchup against UConn Saturday afternoon: Blackout uniforms with F.A.M.I.L.Y written on the back of the jerseys where the last names should go. Talk about unity.
The acronym stands for "Forget About Me I Love You." It's all over Twitter.
Read More At Bleacher Report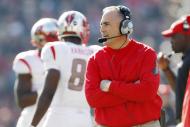 Tyler Donohue - Tuesday, November 12, 2013 4:25 pm